Geographic targeting is key to any digital marketing strategy. It's not enough to know who your customers are; you have to know where they are, too. This goes for both local businesses and for international corporations. Have a business in NYC? Expanding your customer reach to the suburbs of Orange County? Does your company service clients all across the globe? Geographic targeting is the way to ensure your website gets visitors from your target markets.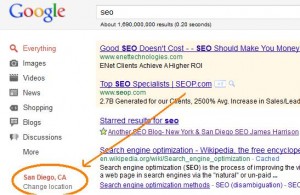 Local
Today's customers aren't using the Yellow Pages – they're finding what they need through Google's local results. Need to show up on Google Maps/Places listings? Do you service customers in a specific geographic location? Our local search experts can help. We hyperfocus our efforts on your geotarget, and get more local customers to your websites.
National
Do you provide products or services all across the nation? Our national digital marketing campaigns are better served for you. These keywords without a geo-modifier (i.e. "best seo company" as opposed to "best seo company nyc" have higher search volumes and can reach a much bigger audience on the national level, bringing you traffic, calls, and customers from all over the country.
Worldwide
Digital Footprint has the knowledge and experience to increase your website's ranking not only on US-based search engines (like Google, and Bing) but on international search engines as well. Looking for customers on Google.es? ¡Ningún problema! Need to rank on Baidu? Our SEO experts will work with you to tailor our search strategy to your specific geographic needs. Whether you're targeting Albuquerque or Zimbabwe, Digital Footprint will help you reach your customers more effectively.